Logistics is a thriving industry, bringing in trillions of dollars annually, with the number of Americans in logistics careers expected to continue growing in the coming years. As the economy thrives, companies will always need people to coordinate the shipping, distribution, and warehousing of their products. So how exactly does one start a sales career in the logistics industry?
Let's follow the journey of Alyssa Roquette, a sales team member at Granite Logistics, to see how she broke into this exciting industry, how she learned the ropes, and what she thinks now that she's established herself in her new sales career.
Education and Early Employment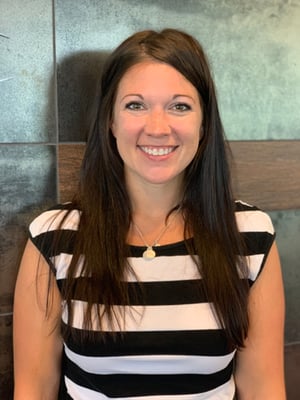 In 2005, Alyssa graduated from St. Cloud State University with a marketing degree. From there, she worked at a technology solutions company for mergers and acquisitions professionals and later a mobile marketing company. Her roles included customer service and account management. Unfortunately in 2018 her company cut her department, and so she began looking for new opportunities.
"I saw Granite Logistics was hiring. I liked what I read about their company culture and the income potential. I knew a girl who worked here, so I reached out to ask if she liked her job, and she had nothing but positive comments," she said.
Alyssa filled out the Predictive Index (PI) Behavioral Assessment, a short online assessment to determine if she was a good fit for the logistics sales role. She got an interview, and was hired only a few weeks later.
First Days at Granite Logistics
Alyssa said, "I had no experience with logistics outside of planning my kids' birthday parties. I knew it had something to do with semi trucks, but I had no idea about anything else."
At Granite Logistics, we don't require our new hires to have previous experience in logistics. Our new hires start their logistics careers on our operations team, which provides the execution of our service. New employees spend this time negotiating rates with trucking companies nationwide and ensuring our customers' service expectations are met or exceeded. This time in Operations helps to familiarize new hires with our industry.
"It was a learning curve, remembering to put in dimensions and other important details, making sure you have the right trailers going out. It was definitely beneficial to start in Ops and see the other side of the business," she added.
Transitioning to Sales
"At first I felt really awkward making phone calls surrounded by other salespeople. For the first couple of days making sales calls, I honestly grabbed my phone and went into a conference room. It got easier to call from my desk the more I did it. You realize everyone around you is doing the same thing, and no one is really sitting there listening to you," Alyssa said.
After their time in Operations, new employees are ready to transition to Customer Sales. Our sales team is responsible for building relationships with shipping customers across the country, primarily over the phone. They provide quotes, act as advisers, build loads, and coordinate with our operations team.
Alyssa added, "Everyone has their own sales approach, but for the most part, you're pretty much picking up a phone and having a conversation with someone who is just like you. We're all just doing our job on a day-to-day basis, trying to get things done."
One Year Later at Granite Logistics
Alyssa continued, "The fact that I've been competitive my whole life helps me to succeed here. You get a yearly goal and you want to hit it, or even exceed it. It's that competitive drive where you just want to see yourself moving up."
A sales career at Granite Logistics is a great fit for anyone who is driven by competition and teamwork. We offer unlimited commission—in addition to great base pay, of course—so our sales reps can earn as much as they can handle. We also have additional incentives, like offering all sales reps who meet their goals for the year an all expenses paid vacation for themselves and one guest.
"I think the culture here is awesome. Operations wants to get loads covered and they want everyone in Sales to be successful. The sales team feels the same. If we're successful as a company, then we all benefit. We work hard from start until finish. We roll with the punches. I still have questions sometimes, but I can always turn to Operations or to my sales managers for answers. People are always willing to help. Some people might be selling more than others, but it's still like we're one big team," Alyssa concluded.