Starting a new job can be a bit daunting, so we're lifting the curtain and showing you what you can expect from your first few months at Granite Logistics.
We all know how stressful it can be starting a new job, with all the unknown factors that can compound our nerves. You want to do good work, impress your boss, connect with your coworkers, and learn the industry—all as quickly as possible.
Every company has its own way of onboarding new employees, and not all onboarding processes are created equally. At Granite Logistics, we're committed to the success of our employees from the very beginning. That's why we wanted to share what you can expect in your first months on the job!
The Predictive Index Behavioral Assessment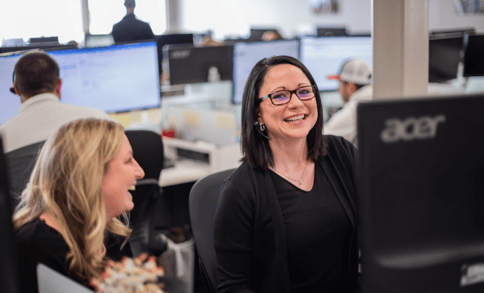 The Predictive Index Behavioral Assessment (PI) is a behavioral assessment introduced during the application stage.
It is a 15-minute online assessment that measures an individual's motivating drivers on four primary levels. We use the PI early in the recruitment process to help identify whether a candidate is a good fit for the role, or if we have a role that would potentially be a better fit. This means that once you're hired, you can be confident you'll fit in with the job and team where you've been placed.
The operations team
At Granite Logistics, we don't require our new hires to have previous experience in logistics. Employees hired with no previous industry experience start the onboarding process by training on our operations team, providing the execution of our service. New employees spend this time negotiating rates with trucking companies nationwide and ensuring our customers' service expectations are met or exceeded.
While training in Operations, new hires are seated next to team leaders to help with their day-to-day needs. They learn vital industry knowledge that will prepare them to start their transition to Customer Sales, which includes terminology, regulations, how to operate within our computer systems, and how to negotiate over the phone in a business-to-business setting.
Transitioning to Sales
After their time in Operations, new employees are ready to transition to Customer Sales. Our sales team is responsible for building relationships with shipping customers across the country, primarily over the phone. They provide quotes, act as advisers, build loads, and coordinate with our operations team.
When they've advanced to Customer Sales, new hires will begin to generate leads by calling prospective clients. They will earn commissions on every shipment moving forward. Once transitioned to Sales, new hires sit amongst managers and other new employees so they can share their experiences and expertise.
The Granite Logistics difference
When you start your Granite Logistics career, you can rest assured knowing we'll give you the support you need to succeed and thrive. From our comprehensive onboarding process to ongoing coaching and promoting, Granite Logistics believes in providing consistent support for both new and seasoned employees. We look forward to working with you soon!