Giving Thanks
As we passed Thanksgiving, we started to think about what we're thankful for. We thought it would be a great opportunity to share some of the things that our employees highlighted from working here at Granite Logistics.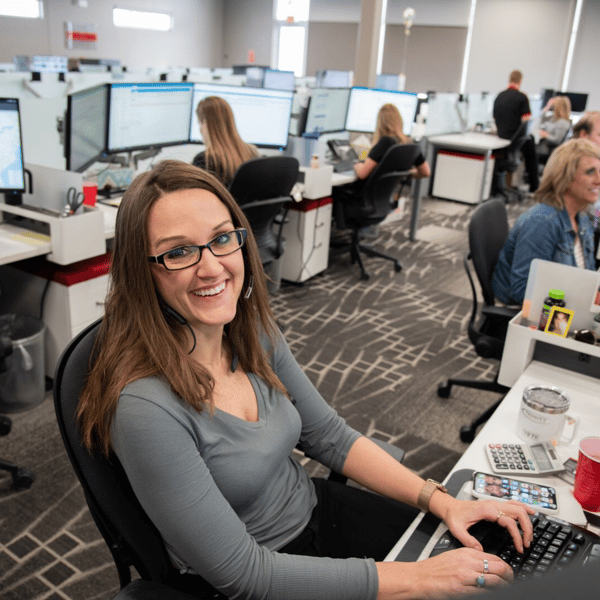 Whether it means financial freedom or earning potential, a career in logistics has made all the difference for some of our employees. There's a whole lot of potential in sales jobs here at Granite Logistics, but don't just take our word for it. See what our employees have to say.
Carving your own path
Making your own headway into a career in logistics comes with a lot of perks. We have a number of employees in logistics sales or management that have different experiences, but they all have the same level of appreciation.
Your experience at Granite Logistics isn't limited to one you can find at any of the cookie-cutter sales jobs available today. Working with us gives you the ability to do more, learn more, and ultimately be more.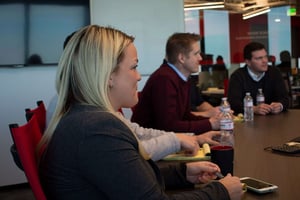 We'd hate for you to accuse us of blowing things out of proportion, so we sat down with some of our people to discuss what worked for them, and how we were different from their past work in logistics sales.
I'm not micromanaged (ish. gross!) and I can be me. I love rolling into work in a hoodie and tennies. I enjoy that we don't always need to be prim and proper. We laugh when we shouldn't (yes!), tease, and poke fun of each other (we're all a little weird - its ok, Karen). Many of us have worked together a long time and know it's all in good fun. Ooh, and our food days. Dang it, I do love those. Also, I'm a Mom. I'm given the flexibility to go to my kids activities which to me is priceless.

-Angie Dilley
We know that today's workplace can still be demanding in more ways than just the work you do. At the end of the day, a career in logistics doesn't need to stress you out over the little things. At Granite Logistics, we strive to take away your worry from everything not related to your job performance. Take time for your family and for yourself. That's just one of the many core values that we hold.
I am grateful for the flexibility and work-life balance that Granite Logistics allows its employees to have. Whether it be from spending a lunch hour running a child to a Dr. appt. or the ability to leave early to attend an event. We have a real community/family here and we have each others' backs. Many of us are not just friends in the office but also good friends outside the office. Ownership and management truly look out for their employees, give back, and want them to succeed and prosper.

-Trent Dirkes
How many sales jobs have you had where a fellow employee called their coworkers family? We'd wager that there aren't a lot, and some that make the claim are clearly faking it.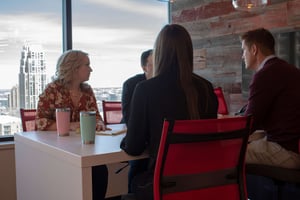 We're bringing out these testimonials to show you that a job in logistics sales can be phenomenal and as close to a home-away-from-home as possible.
I am grateful that I am in a career where my day is not filled with mindless meetings and instead can be spent following up with customers, prospecting, and confirming loads are picked up on time. I am also grateful that I am in a career where I am solely responsible for my customer base growth…I can blame no one but myself if I am not where I want to be.

-Alyssa Roquette
Alyssa talks about her path to us in more detail here. We strongly encourage you to give it a read. You have all the tools required for a successful career in logistics, our company simply believes that we need to give you the environment and experience to show it. Logistics sales isn't about attending all the meetings or performing all the tedious tasks; instead, it's about working on yourself and the tools you use to close deals and become successful.
There is a lot to be grateful for working here at Granite Logistics, including the very generous owners. The bonuses they award us within the office to celebrate our hard work is only matched by their continued support within the local communities. They have also put together a top notch benefits package including up to 6% match towards retirement contributions.

-Kurt Schlangen
We put a hefty price on community here at Granite Logistics and we show it. Whether it's by giving back through community service or by giving you some added benefits throughout your tenure with us, we know that we get just as much as we give. With that being said, we know the best amount to give, is as much as you can.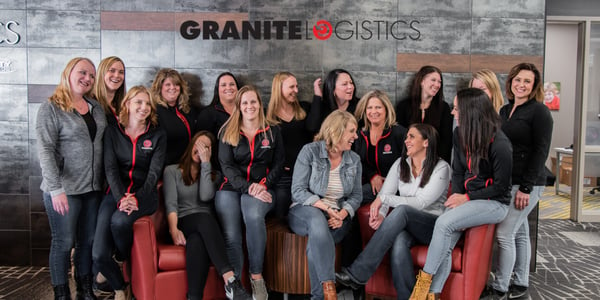 I am grateful for a career that has unlimited potential. Not only do we get paid great for our work, we also have managers and even the owners who are always willing to help with anything and work to make us feel appreciated. This is by far the best company I have ever worked for.

-Lisa Sendy
We tailor your career in logistics with unlimited potential because we believe that the people we have selected have unlimited potential. All of our employees in logistics sales have nowhere to go but up, and we couldn't be more excited for it.