Bringing Passion, Respect, Integrity, Discipline, and Excellence into our every interaction, with both clients and each other
Our goal at Granite Logistics is to become the nation's premier flatbed and specialized transportation broker. With over $140 million in annual revenue, and moving 50,000 loads a year, we are well on our way.
We credit our success to our team, and to the company culture and mission statement that binds us together toward our common goals. Since its inception, Granite Logistic's core values have been Passion, Respect, Integrity, Discipline, and Excellence, or as we know them collectively, P.R.I.D.E.
Passion
Granite Logistics is one of the fastest growing logistics brands in the country, and we couldn't do it without our team of passionate employees. We're always looking for motivated people who want to make their own mark while working as part of a high-performing team, and we strive to foster an environment that is fun, collaborative, and fast-paced. Granite Logistics is a great fit for anybody who likes working with people, solving problems, and pushing the limits of his or her own achievement. We offer unlimited commission to our sales team, so everyone is in control of their own success.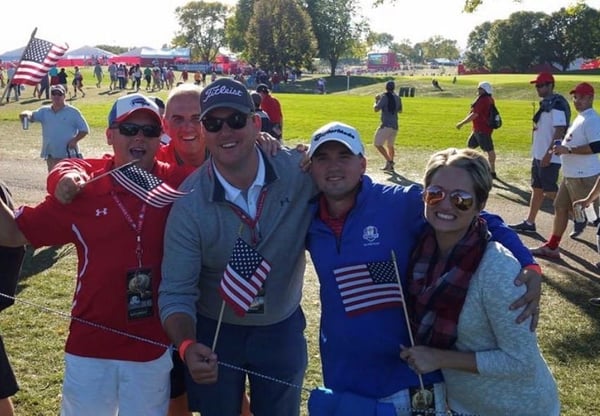 Even though we're competitive, we're still a team. Everyone is willing to help one another. As a team we work hard, but we also play hard. Employees at our Sartell office can let off some steam with a friendly game of ping pong, and Minneapolis employees can play a few rounds on our golf simulator. We go to Minnesota Vikings and Twins games, company volunteer events with United Way of Central Minnesota, and every year we do a Secret Santa gift exchange.
"The culture at Granite Logistics is so much fun," says Brittany Johnson, Director of National Sales for Granite Logistics. "It's like a big extended family here, which makes it easy coming to work each day. I have never worked at a place like it."
Respect
"Culture is so important to us," says Pat Lynch, co-founder of Granite Logistics. "Granite is about its people. We want a place where people can excel and enjoy the work they do every day."
We believe in creating a company culture where our employees feel valued and respected, and where people love coming to work each day. We're proud to offer our sales representatives a competitive salary and limitless commissions. Other benefits include full health, dental, life, and short and long term disability insurance, as well as a 6% company 401K match, and a casual atmosphere and dress policy. And if the company achieves its annual goal, all employees who worked the full year get to take a winter vacation with a guest at the company's expense.
Integrity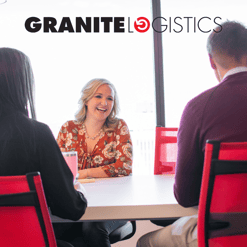 It's no secret that people prefer doing business with people they trust. Our sales representatives build relationships with our shipping customers across the country. They provide quotes, act as advisers, and coordinate with our operations team.
Our customers know we operate with integrity, and they can trust us to get their shipments where they need to go. At Granite Logistics, we take pride in making each of our clients feel valued, understood, and informed.
Discipline
Clients look to Granite Logistics representatives to be experts in the logistics industry, but we don't require our new hires to have previous experience in the field. Employees hired with no previous industry experience start the onboarding process by training on our operations team, providing the execution of our service. New employees spend this time negotiating rates with trucking companies nationwide and ensuring our customers' service expectations are met or exceeded.
While training in Operations, new hires are seated next to team leaders to help with their day-to-day needs. They learn vital industry knowledge that will prepare them to start their transition to Customer Sales, including terminology, regulations, and how to negotiate over the phone in a business-to-business setting. Even after hires transition into sales, they can always turn to Operations or to their sales managers for answers.
Excellence
"When we talk about being a premier logistics company, the first metric we use is the quality of service we provide to our customers," says Lynch. "We go the extra mile, make the extra calls, and handle every detail of their shipments. Our customers trust their shipments will run smoothly with us."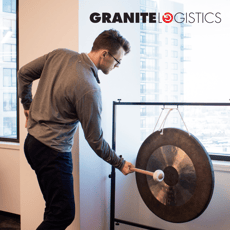 Granite Logistics was founded on the principle of service. Since the beginning, our team has remained committed to serving our customers, employees, and our community. We grant people an excellent place to work. We give the logistics industry the single best option for flatbed and over-dimensional service. And we give the communities of Sartell and Minneapolis a dedicated, supportive local business committed to growth and opportunity.
We are proud to have been recently named one of the Star Tribune's Top 150 Workplaces in the state of Minnesota. As a company, we take great pride in what we do, and our mission statement guides us in all of our interactions. We believe when we live these core values on a daily basis, we create an environment where our team can flourish and each member can reach his or her full potential.