When you think of trucking, odds are you probably envision a male-dominated industry. Fair enough. According to the Bureau of Labor Statistics, women account for fewer than 25 percent of those employed in the transportation and utilities sector. On the other hand, 75 percent of top Granite Logistics salespeople are women.
We believe good teams are made up of diverse employees who each bring different skills and perspectives into the workplace, and women actually have some huge advantages when it comes to succeeding in a male-dominated field like logistics.
Women Excel at Empathy and Relationship-Building
"It was the people that ultimately made trucking attractive to me. I like meeting new people and helping people. Through all my years in the business, I've had the privilege to work with some pretty great people." –Brittany Johnson, Director of National Sales for Granite Logistics
Building trusting relationships with customers is the key to success in any business. After all, if your customers don't trust you, they can easily take their business elsewhere. Personal relationships foster rapport with customers, and assure them they've found the company that is the right fit. Women are proficient at building empathetic interpersonal relationships, making them a valuable member of any business team.
Women Have Superior Communication Skills
Studies show that female brains are better at processing both verbal and visual language; a crucial skill in an industry involving frequent phone calls and emails. Women have an intuitive understanding of what their clients need, what the logistics company can provide, and negotiating a solution which works for both sides.
"I think women have the edge over men. This is a service industry. A large part of my job is to make my customers' lives easier. Most of my customers are stressed-out men working with other stressed-out men. It's a breath of fresh air when they get to work with knowledgeable women who can help make their job easier." –Kelly Jo, Director of National Sales for Granite Logistics
Multi-tasking and Organization Come Naturally to Women
"In order to be successful in this industry, you have to be very detailed-oriented." –Sara Cummings, Senior Sales Representative for Granite Logistics
Logistics is a fast-paced environment with many moving parts. Part of building trust with customers entails taking care of every detail throughout the process, letting nothing slip through the cracks. Due to the connectivity between the left and right hemispheres of the female brain, women are hardwired for multitasking, outperforming males in areas such as attention, word and face memory, and social cognition tests. This makes them well-suited for jobs which require juggling multiple projects at once with close attention to detail.
There are innumerable resources encouraging women to adopt more masculine traits in order to succeed in the business world. However, we at Granite Logistics believe women are an indispensable part of our sales team. So while we have both successful men and women as part of our team, we specifically encourage women not to overlook this lucrative industry because of perceived stereotypes.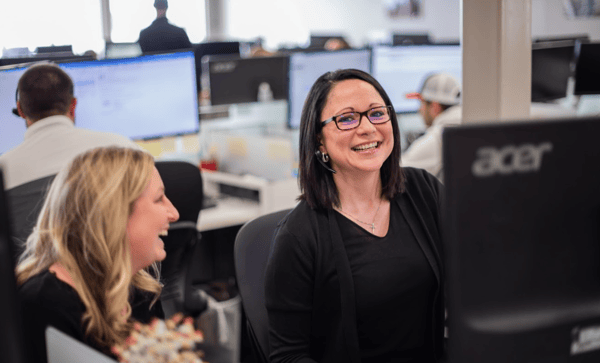 Kerry Herker is the Sales Manager of the Sartell branch.