How one of the fastest growing logistics businesses in the region got its start, and where it's going next
By all accounts, Granite Logistics is a small business—only 88 employees and two Minnesota offices—but the amount of business it brings in is anything but small. With over $140 million in annual revenue and 50,000 loads moved per year, Granite Logistics is one of the fastest growing logistics brands in the country.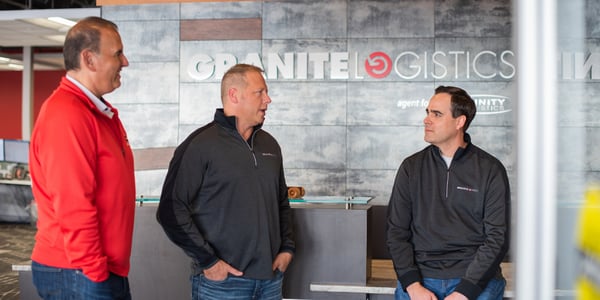 Co-owners Pat Lynch and Jeff Smiens were college friends who brought their years of industry experience together to create Granite Logistics. Their mission? Become the nation's premier flatbed and specialized-transportation broker. A bold move, considering the company launched in 2011 in an economy still recovering from the subprime mortgage crisis.
"Our job becomes tougher when the economy is struggling, but there's always freight to be moved," says Lynch. "We always believe the best way to deal with a recession is not to participate."
In the early days, Granite Logistics operated like a startup company, with an office full of simple furniture and systems. The team was small, sat close to each other, and had to fight for every load they could find.
"When we launched, there was no guarantee this would be a success," says Lynch. "But through hard work and smart hiring, we built a team that continues to excel."
What do logistics companies do?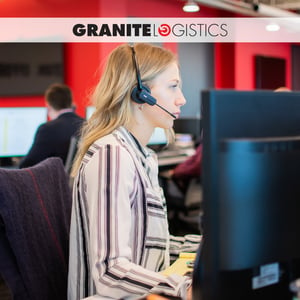 Businesses use logistics brokers for the coordination, moving, and housing goods and supplies. Granite Logistics leverages nationwide and regional carriers to move shipments for businesses across North America. The logistics company is independently owned by Lynch and Smiens, operating as the number one agent for Trinity Logistics of Seaford, DE. Trinity has been in business since 1979 and is one of the nation's Top 25 freight brokers. As the parent company, Trinity handles all the critical administrative functions necessary to ensure a smooth shipment, while Granite Logistics focuses on sales, operations, and delivering superior business-to-business customer service.
"When we talk about being a premier logistics company, the first metric we use is the quality of service we provide to our customers," says Lynch.
"Our customers enjoy working with us, and we make it easy for them. We go the extra mile, make the extra calls, and handle every detail of their shipments, so they can focus on their core businesses. Our customers trust their shipments will run smoothly with us, and we do everything possible to make that happen."
Building a team, building a company
"Our team is the reason for our success," says Lynch. "We have high standards, and we're fortunate to have a team of experienced veterans and ambitious newcomers."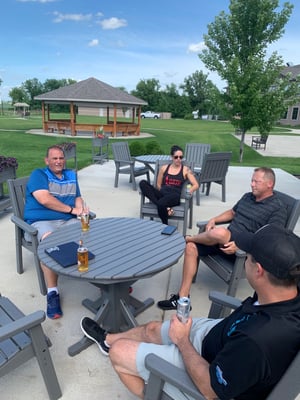 In a tight labor market, hiring is difficult, as is retention. So how does Granite Logistics ensure the people it hires stick around? According to Lynch, the answer is excellent pay, comprehensive benefits, and a great company culture.
Granite Logistics is proud to have been recently named one of the Star Tribune's Top 150 Workplaces in the state of Minnesota.
"Granite Logistics is always looking for ways to pay people more when they do a great job," says Lynch. "In 2018, 36% of salespeople who worked the entire year made more than $100,000. Like Kelly Hoihjelle. She was actually managing a bar and restaurant in town and happened to meet Jeff and me when we were out for lunch. She's now our number one sales rep—the best I've ever seen in this business."
Granite Logistics also recently strengthened its benefits package with a larger company contribution toward health insurance and the introduction of a 401k plan with a 6% company match.
And, of course, the annual company-paid trip—where every team member who worked the entire year gets an all-expenses paid vacation if the company achieves its annual goal. "Culture is so important to us," says Lynch. "Granite is about its people. We want a place where people can excel and enjoy the work they do every day."
Contributing to a community
"We are proud to be a part of the Central Minnesota community," says Lynch. "Our roots are here, and we try to support this community that's been good to us."
Both Lynch and Smiens graduated from Saint John's University, and the logistics company continues to hire graduates from all of the local colleges. Lynch even served on the Sartell City Council for a number of years. Granite Logistics believes in pouring its success back into the community, and encourages its employees to volunteer with organizations like United Way of Central Minnesota, Central Minnesota Community Foundation, Habitat for Humanity, and the YMCA.
"There are so many organizations in this area doing great things, and as we grow and prosper, we want to help support that work," says Lynch.
A future of growth
In 2015, Granite Logistics began to discuss the idea of a second office. Both Smiens and General Manager Paul Nelson lived close to the Twin Cities, so that was a natural location. But the other big factor in that decision was the sheer size of the talent pool available in the Minneapolis–Saint Paul region. "We've done well in the city of Sartell and will continue to grow our Headquarters office there," says Lynch. "But there are simply more people in the Twin Cities, and the opportunity to tap into that talent pool was the driving force in opening that office."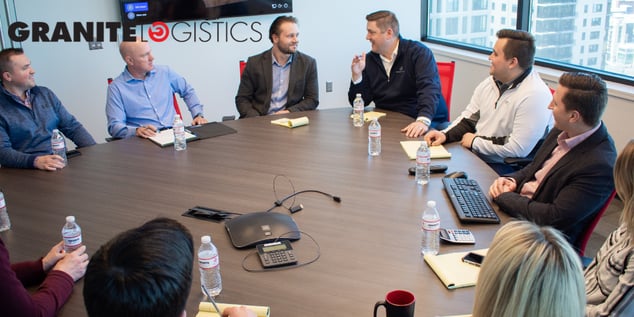 At Granite Logistics, "growth" is the watchword. The company is one of the fastest-growing businesses in the industry and the region and is always looking for motivated people who want to make their mark while working as part of a high-performing team. It provides hands-on training in all aspects of transportation and logistics, so no previous experience is necessary.
"Granite Logistics has been a growth story since its inception," says Lynch, "and we want to continue to grow our customer base and create career opportunities for our people. We want to get continually better. And ultimately we want to fulfill that mission of becoming the nation's premier flatbed and specialized transportation broker."