When you think of a career in sales, some images that come to mind might be the sleazy used car salesman, annoying telemarketers interrupting your dinner, or the high-powered professional who only cares about the bottom line. Because of these stereotypes, a sales career may be the last thing most people would want. But "sales" doesn't have to be a dirty word. Sales is a necessity in our world, and at Granite Logistics we believe there is plenty of room in the sales industry for integrity, respect, and professional pride.
What Granite Logistics does
You may be thinking, "What is logistics sales?" Logistics is the commercial activity of transporting goods to customers. At Granite Logistics, we handle outsourced logistics functions for our customers' businesses across the country, specializing in the flatbed, over-dimensional, and heavy haul markets. Our number one priority is getting our customers' freight moved safely and on time.
Our company values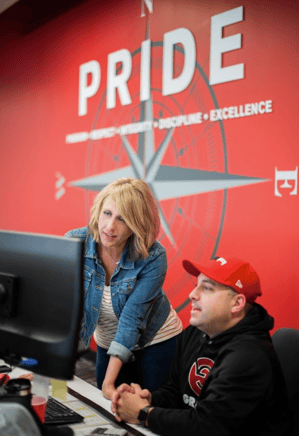 Granite Logistics takes great pride in what we do, and our core values guide us in all of our interactions. We bring a passion to the work we do, treating everyone with respect and integrity. Every day we operate with discipline to ensure no detail is overlooked, striving for excellence with each load we handle.
We believe when we live these values on a daily basis, we create an environment where our team can flourish and each member can reach his or her full potential.
We believe in creating a company culture where people love coming to work each day. We strive to foster an environment that is fun, collaborative, and fast-paced. We're proud to offer our sales representatives a competitive salary and limitless commissions. Other benefits include full health, dental, life, and short and long term disability insurance, as well as a six percent company 401K match, and a casual atmosphere and dress policy.
And perhaps our best perk? If the company achieves its annual goal, all employees who worked the full year get to take a winter vacation with a guest at the company's expense.
"The culture at Granite Logistics is so much fun," says Brittany Johnson, Director of National Sales for Granite Logistics. "It's like a big extended family here, which makes it easy coming to work each day. I have never worked at a place like it."
The perfect Granite Logistics candidate
Our sales representatives are responsible for building relationships with shipping customers across the country, primarily over the phone. They provide quotes, act as advisers, build loads, and coordinate with our operations team. Building customer relationships is crucial, so our customers come to trust us and rely on us for an increasing share of their business.
The Granite Logistics sales team needs people who are competitive but appreciate a friendly, encouraging environment. Our sales reps are self-starters who are tenacious, detail-oriented, and willing to learn. Goal-setting and strategic planning are a natural part of this job and those who thrive in a buzzing, fast-paced work atmosphere will feel right at home at Granite Logistics.
The new face of sales
As long as there are products to be sold, there need to be people selling them. The key to success in sales is to gain the trust of your customers—and keep it. As a logistics sales rep, your customers rely on you to fulfill their needs.
They need to know you have their backs, and they can rely on you to deliver on your promises. While the old images of the smarmy salesperson aren't going anywhere, companies like Granite Logistics that treat customers with respect and integrity prove these stereotypes aren't always true.